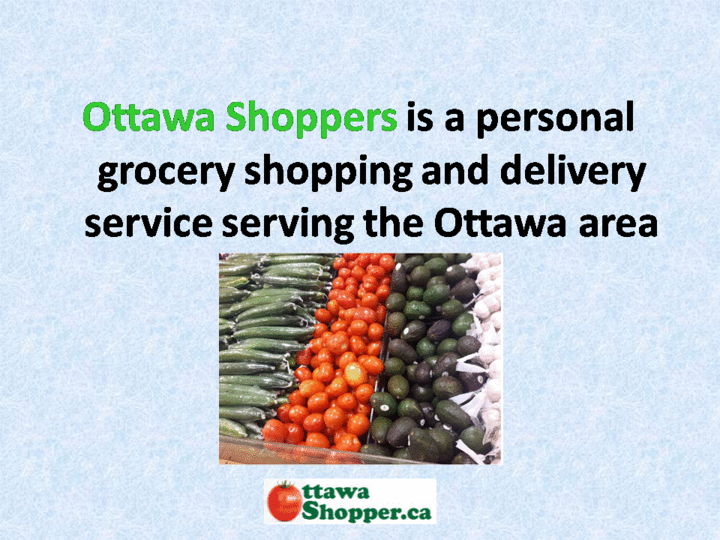 Do shoppers accept tips?
Tips are not required but they are greatly appreciated.
Can I purchase groceries as a gift?
Yes. You can order groceries for a friend or relative and we'll deliver it to them.
How can I refer friends to OttawaShoppers?
Do you offer deliveries from restaurants?
At the moment we do not deliver from restaurants.
---
Do you charge busy or surge pricing?
No. Our delivery fees are the same any time you shop with us.
---
Can I do a one-time order or do I need a subscription to use OttawaShoppers?
You do not need a subscription to use our shopping and delivery service. We accept one-time orders, weekly orders or monthly orders for groceries. Contact us and we'll find a away to accomondate your needs.
---
How fast will I get my delivery?
When you send us your shopping list we will give you a list of the available delivery windows for you to pick the most convenient one for your delivery.
---
How do I pay for my delivery?
You can pay using either cash or an Interac email transfer
---
How fresh are my groceries?
Our shoppers will shop for your groceries right before they are due for delivery to ensure you get everything fresh.
---
When do I pay my shopping?
When the shopper has completed shopping for your items, we will send you an image of the receipt(s). You can make a payment then or pay on delivery.
---
Can I change my shopping list?
You can make changes to your shopping list as long the shopper has not completed shopping for your items and we will accomodate your changes.
---
What happens if an item on my shopping list is not available?
The shopper will contact you and let you know that the item is not available. This gives you an opportunity to either order a replacement, suggest an alternate store or confirm if we should leave that item out.
---
Can I schedule a regular delivery for my shopping?
Yes you can schedule a regular delivery (daily, weekly or any other duration) and we'll make sure your scheduled shopping is always delivered on time.